Prior to COVID-19, my mom and I were planning an action-packed 10 day trip to Yosemite and Sequoia and King's Canyon National Parks. June 2020…it was our dream trip and unfortunately with the pandemic we had to cancel. Losing out on the trip is not a huge loss, given the burden COVID has caused. One thing that helped me during the pandemic has been painting and connecting with other painters virtually during lockdowns and social distancing.
Even if COVID has upset past and present travel plans, ART has a healing power and we are blessed to have the ability to watch live videos of scenic nature (YouTube has hours of scenic videos of our National Parks – enabling the homebound to enjoy the scenery from afar).
I still have my stack of Yosemite guidebooks on my shelf and hope to make the trip in 2023. The reservations are so crazy now to get in the park – we are looking to visit South Dakota this year.
While I am valleys and mountains apart from Yosemite and California's National Parks, I can imagine myself in the wilderness, in the shadows of Sequoias and vast mountain valleys and vistas.
I'm still painting my way through California's parks, but wanted to share my progress so far….
All art is available on Etsy
The tunnel view vista of the Yosemite Valley is one of the most iconic images in America. Photographers and painters from Ansel Adams to Albert Bierstadt have tried to translate the natural beauty of Yosemite into art. God's artistry in nature is unrivaled and yet scenes from Yosemite dare us to dream and art can help us to connect with nature and creation.
Painting my version of the Yosemite Valley took four hours. The natural scenery is so sweeping you need time to scale the elements. The perspective in painting the Tunnel View is difficult.
My goal in this impression was not extreme detail, but to ensure I matched the values of the scene from from reference photo. I sought to add hints of browns and lighter tones in the rock to represent the lighter values in the reference photo.
Overall I'm satisfied with the painting and will have it on my Etsy page soon.
Yosemite, like Yellowstone (Grand Canyon of Yellowstone) is a place I will continue to paint time and again. Each day and each season offers new inspiration. I hope you enjoy this painting.
King's Canyon National Park:
King's Canyon is known as a mini-Yosemite – it is vast and beautiful with jagged peaks and the gorge of a chiseled canyon. In searching for a reference photo, I noticed the clear blue water of King's Canyon's back country lakes. I wanted this to be a reflection of the park.
I focused on building layers of light grey and browns for the peaks – with a dusting of snow (Titanium White and Iridescent White + Phlatho Light Blue). The lake was an emerald clear green so I used lighter blues and greens to create this scene.
To learn more about the park click here
Channel Islands:
I have always dreamed of visiting Channel Islands National Park – which is a ferry ride off the coast of Southern California.
I took my inspiration from this image of Cathedral Cove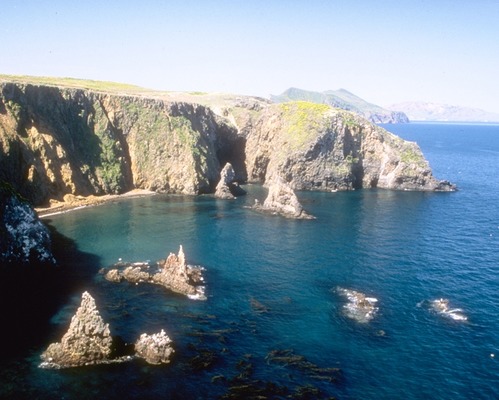 My painting is meant to be an impression and not at detailed as the reference photo -but I wanted to work on the values of the island stone and deep impenetrable blue of the ocean.
To learn more about the park – click here
Art for sale on Etsy – by purchasing Fresh Art by Adele – you support an artist to purchase additional supplies and run her blog 🙂 Thank you