I've continued my journey painting the National Parks by focusing on North Cascades and Mt. Rainier. Both of these paintings are impressionistic and focused on the values of the space. Although the brush strokes are big and bold in places the layering took several hours to build up the colors and flow.
North Cascades National Park:
This park is on my bucket list. I've visited the Cascades several times but never been to North Cascades. Located several hours from Seattle, this national park features spectacular vistas tantalizing scenes of crystal clear waters with rocky jagged peaks and over 300 glaciers. It is a convergence of lakes, rivers, lush forests and alpine ecosystems
In preparing to paint the North Cascades I studied multiple photos/videos and in looking at the values I was amazed by how blue the mountains appear and the lakes are a deep blue and green.
I could tweak the painting with more details but I followed the values and the sweeping and deep brilliant colors.
The brilliant colors of the water come from the silt (Glacier National Park MT is similar)
To learn more about North Cascades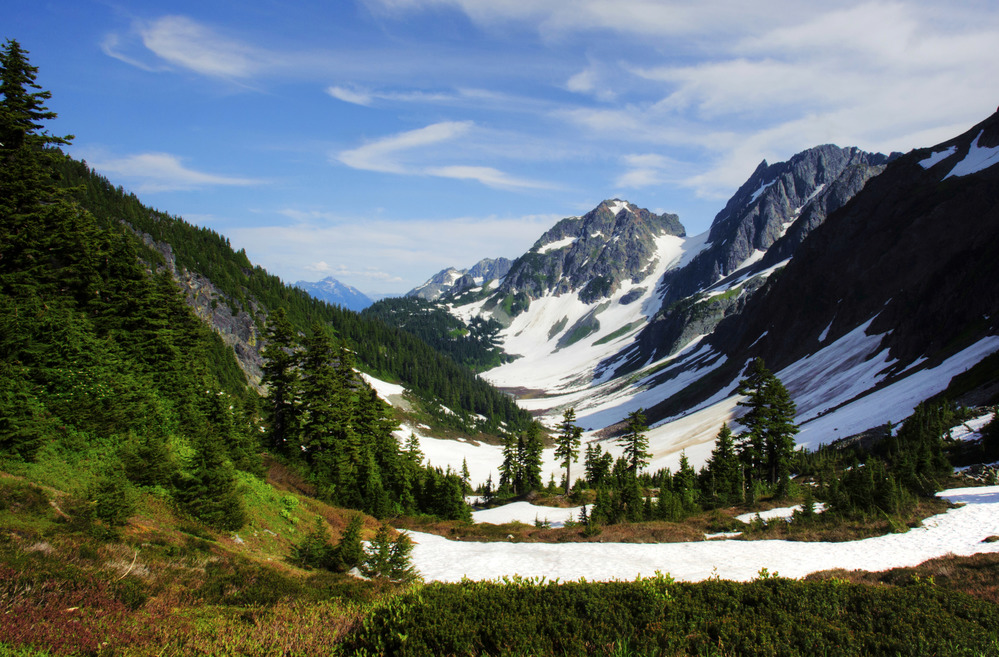 Mt. Rainier National Park:
I fell in love with Mt. Rainier when I was in eighth grade. My dad took me on a ten day Washington state trip from Seattle and Mt. Rainier, Olympic and Mt. St. Helens.
I have always love mountains and seeing the first rocky alpine mountain west of the Appalachian. I felt like I had arrived in heaven. I wanted to emulate that heavenly feel in this impression. The glorious colorful wildflowers, winding trail and snow capped colossal peak.
In painting this scene…it was all about layering. I used my Silver Ruby Satin brushes and liner brushes from Soho and Princeton.
I started with a grounding color of unbleached titanium and Payne's grey with ultramarine blue.
I then blocked out the colors with values and then starting building out the colors and details.
To learn more about Mt. Rainier
Interested to purchase these or other Adele Lassiter originals check out my Etsy